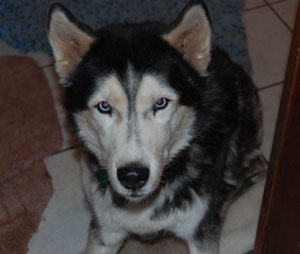 Age: 10 – 12 Years
Sex: Female
Size: Average
Dearest Sadie ~ Wear your silver harness proudly as you dance among the stars. You are free of the pain that once held you back, now you can run and play as you once did. You are horribly missed, but will live forever in our hearts. Until we meet again, dear friend… ~ February 2013
---
Sadie came to MaPaw in December 2011 a sweet senior whose past was a mystery. She soon settled in and we could tell she was happy to be part of a family again.
Shortly after she joined her foster home, we noticed that she would startle easily and it looked as though she had doggy dementia. For that reason, we decided it would be best for Sadie to remain in her foster home as a permanent resident. She enjoyed napping on her favorite blanket in the house or lounging in the sun in the yard.
Sadie began to slow down, but remained happy. Her hips and hind legs were beginning to fail her and we did everything that we could to keep her comfortable. Sadly, Sadie could no longer get up on her own and was clearly in pain when she was assisted to stand. Although it broke our hearts, we helped Sadie begin her journey North of the Rainbow Bridge. In the arms of her humans, she passed quickly and peacefully.
[smooth=id:148;]