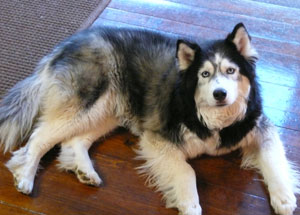 Age: 4 – 5 Years
Sex: Female
Size: Average
Congratulations Zelda!!!
Zelda is a beautiful black and white Siberian Husky/Alaskan Malamute with longer hair, baby blue eyes and a splash of adorable freckles. She somehow lost her family and is estimated to be four to five years old.
Zelda is a friendly girl, however, she seems a little sad and missing her old family. We are encouraging her with lots of love and kind words and plenty of snuggle time on the couch. She loves to go on walks and is very good on a leash.
Zelda is crate trained, however, is very trustworthy in her foster home. She is friendly with other dogs that are rather low key and will also be fine as an only dog with lots of attention and love. Zelda joined MaPaw with a history of epilepsy and seizures, which is controlled with inexpensive medication.
If you are looking for a sweet girl that will be a wonderful companion, Zelda may be the right one for you!
[smooth=id:147;]