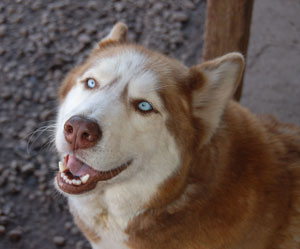 Age: 5 1/2 Years
Sex: Female
Size: Average
Congratulations Skye!!!
Skye is a 5 1/2 year old red and white girl with a thick luxurious coat and brilliant blue eyes. She wants nothing more than to be loved and be with her "sister" Nala. She loves to come and greet you with a gentle paw in your lap that quickly turns into husky hugs.
Skye and Nala came in to our rescue together when they were found running loose. Sadly, nobody came forward for these great Siberians and we welcomed the girls in and are thoroughly enjoying them. They are very affectionate and love to share an open crate to nap in. They are great with the other dogs and visitors fall in love with them. Skye and Nala are housebroken and trustworthy in the house as long as you are willing to share the couch and your lap with them!
These sisters are a bonded pair who love and depend on each other. We simply cannot separate them and they will go to a lucky home together – double the fun! If you are looking for two wonderful huskies full of love, please ask us more about Skye and Nala.
[smooth=id:150;]