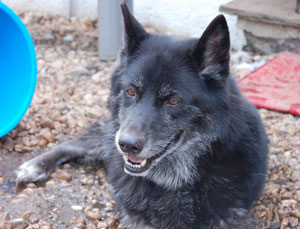 Age: 12 Years
Sex: Female
Size: Large
Our dear Raven has begun her journey North of the Rainbow Bridge. Raven quietly and peacefully passed this morning in her sleep. Dearest Raven ~ Wear your silver harness with great pride as you dance among the stars. You were a big girl, both in size and personality, and you will be greatly missed. Candles are lit… 3.31.2013
---
Click here to check out my video on YouTube!
Raven is a big girl with a huge heart that we fell in love with as soon as we met her. She is a mature girl (12 years, but ladies don't tell their age). Raven came to MaPaw when her human mom had to go into a nursing home and could not take Raven with her. We know she misses her.
Raven enjoys the other dogs, but absolutely loves people. If she can talk you into some attention or a butt scratch ~ she is in heaven, but she is also happy just curling up nearby.
Raven continues to do well in her foster home, but she has turned into a bit of a "cranky old lady" who is set in her ways. She is still a love, but we are concerned that moving her to another environment would prove to be too much for her. We have decided it is best for Raven to earn the status of "Permanent Resident". She will continue to live in her foster home where she will be loved, spoiled and not be subjected to another life change at her senior age. Welcome Raven, we are happy you are part of the family!
[smooth=id:99;]