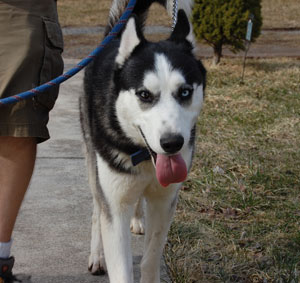 Age: 1 – 2 Years
Sex: Male
Size: Average
Congratulations Kosmo!!!
Click here to check out my video on YouTube!
Kosmo is a "classic" black and white husky with piercing blue eyes that is estimated to be one to two years old. He just recently joined his MaPaw foster home and we are still getting to know him.
Kosmo had been found as a stray and taken to the shelter. There he sat patiently waiting for his family to come and take him back home. Unfortunately for him, they never came. Fortunately for us, we now have the opportunity to help him find his forever home.
We are helping this young pup learn his manners while he readies to find his forever home. We can tell you that he is an active boy (as typical young Huskies are) and loves to play! He is getting on with the pups in his foster home and has made friends at the dog park.
We are learning more about Kosmo each day. Check back soon for updates!
[smooth=id:98;]