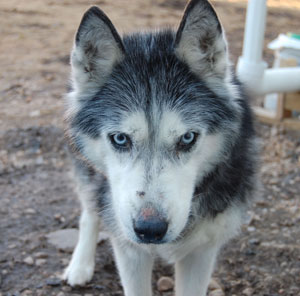 Age: 13 Years
Sex: Female
Size: Average
Our dear Kita has begun her final journey North of the Rainbow Bridge. Yesterday, she was having great difficulty in getting up and walking. It was clear to her heartbroken foster Mum that Kita was in a lot of pain. Kita passed peacefully surrounded by love.
Dearest Kita ~ we only had the pleasure of knowing you for a short while, but you left a lasting impression on our hearts. Wear your silver harness proudly as you dance among the stars. ~ September 6, 2011
---
Kita is a senior Siberian we have been watching over for a while. Her mom had to have a heart/lung transplant and could no longer care for her loved, lifetime fur-friend. We lost touch with Kita for a while when a family friend took her in and then took her to the local shelter and she was again adopted and returned…
When we found out this devoted girl was again at the shelter we did not hesitate to bring her in immediately. We are so happy we did, she is a sweetheart that is confused and depressed. We are giving her lots of TLC and extra kisses and hugs to let her know everything is OK.
Kita is approximately 13 years old and is a quiet, loving girl. She would be perfect for an older couple or person wanting a faithful companion that is low energy and doesn't require a lot of exercise. She would probably do best as an only dog. If you are looking for someone to share the golden years with or just a laidback friend, please ask us more about Kita!
Click here for our application.
Do you have questions about Kita? Send her foster family an email.