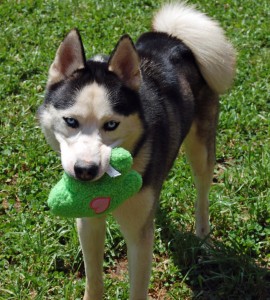 Age:1 year 8 mos
Sex: Male
Size: Average
Congratulations Sitka!!
Sitka is a handsome 1 year, 8 month old Siberian Husky born on December 9, 2012. In his short life, Sitka has been passed around to 5 homes! We have promised him we would find his forever home that will always love and care for him. Somebody is going to get very lucky!
Sitka is a sweetheart, pure and simple. He has a sunny personality and a contagious smile. He is very smart and loves attention. He has a great voice and loves to carry on a Siberian woo-woo conversation. He loves to play with the other foster dogs, especially the females.
This poor pup has been shuffled around through no fault of his own. He came in very thin, scared and nervous. Both the shelter personnel and MaPaw volunteers have made wonderful progress with him and though he may be timid at first, he quickly warms up and becomes your new best friend. He does need a little help building up his confidence and gives great kisses once he knows you.