Congratulations Rho!
Age:5-8
Sex:Female
Size:Average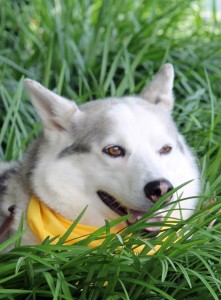 Rho is a quiet, sweet and happy Siberian, whose age is a mystery, anywhere from our vets guess of 5-8 and intake records of about 10 years. This sweetie is calm and well past the puppy prank stage.
Rho loves walks in the park and curling up in a soft bolster bed for quiet time. She is usually very calm, but runs around when motivated and she can do a 4 mile hike with only 1 or 2 breaks. She can do stairs, but prefers to sleep in her bed downstairs.
Rho will jump up on the sofa if invited, but won't go up on her own. Soft, squeaky toys are her favorite type. When it comes to treats, she likes them all and waits patiently for them with a nice big smile on her face. Belly pets are also a favorite and she will let you know with a nudge if you stop too soon.
Rho would do well either as an only dog for a doting family, or part of a multi-dog family. Rho is great with all types of dogs and loves children. She likes to give kids lots of kisses.
Rho has lots of life and lots of love left in her, and will charm her way into your heart with her gentle sweetness.