Age: 4 months
Sex: Male
Size: Puppy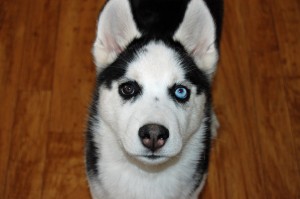 Harvey is a four month old puppy full of life, love and curiosity. True to his breed, he is high energy and will need an active home, preferably with another canine playmate and a fenced yard to chase and play in.
Harvey is a smart boy ~ he knows sit and is working on his basic commands. He is crate trained and is 95% housebroken. He loves to play with the other huskies until he finally tires out and then he is content to curl up for a nap, preferably in someone's lap.
Harvey will need to go to a home that will have time and patience to continue his training and manners. In turn, this sweet baby will be a loyal and friendly companion for many years to come.