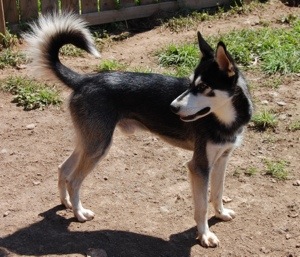 ~Congratulations Monty!!
Monty is best described as the "class clown" ~ he is always looking for fun. He came to us as a stray and we estimate him to be between 8 months and 1 year. He is still very thin and needs some weight as he grows older.
If there is a game in the play yard, Monte is usually right there. He is friendly with all of the other sibes and has a happy-go-lucky personality, eager for people attention and love. He loves walks and car rides and just being where he can belong.
Monty has handsome looks and a great personality. He is eager to have the one thing he is missing… a forever family to love. If you are looking for a new best bud to enjoy walks and games and just to hang out, Monty may be a wonderful addition to your life.