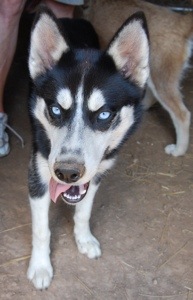 Congratulations Mina!!!
Mina is approximately 5 months old and the world is hers! This husky puppy is full of spunk and curiosity and is a typical high energy pup. She loves to play and when she is finally tired out she is more than happy to cuddle up with her human friends – until it's time to play again!
Mina is good with other dogs. She is no shrinking violet and can be quite bossy at times. She will be best placed with another active dog that will allow her to be the alpha.
Mina has a friendly, outgoing personality. She does tend to guard her food and will need to be fed separately from her other canine pals. She loves toys and plays nicely with them; however, if given a chance, this little girl will grab and run.
If you are up for the puppy challenge and have the time and patience to work with Mina so she becomes a great companion pet, please contact us with any questions or submit our on line application. Are you ready for a diva in your life?