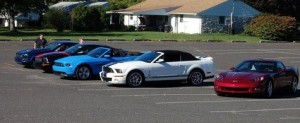 When?
Sunday, September 8th (rain date 9/22)
Sign In Registration: 9:30 am – 10:30 am
Buffet Served: 1 pm – 3 pm
Start Your Engines at:
Gilbertsville Fire Company No. 1
1456 E. Philadelphia Avenue (Route 73)
Gilbertsville, PA 19525
Take a mapped out tour (car or motorcycle) through our beautiful countryside! It begins at the Gilbertsville Fire Co. No. 1 and ends there, as well. Collect chances along the way and return to the Fire Company to enter for drawings to win! Don't forget to try your luck with a 50/50 drawing!
How much per person?
The cost per person is $18 and includes a buffet meal at the finish. Buffet includes baked ziti, meatballs, salad, rolls, tea, coffee and soda (alcoholic beverages are available at an additional cost).
Where can I get my tickets?
You can purchase your tickets at registration the morning of the Rally, at Gilbertsville Fire Co. & online.
Proceeds help the dogs of MaPaw!
Thanks to everyone that came to support the dogs, we had a great time.
     See you next year!!