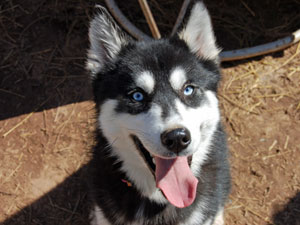 Age: Approximately 11 Months
Sex: Female
Size: Petite
Congratulations Brook!!!
Brook is a petite black and white Siberian puppy who is approximately 11 months old. She has twinkling blue eyes that are full of mischief. Unfortunately, her dad was called to duty to protect his country so Brook and her best friend, Maddie, have joined our rescue until we can find the perfect home where they will be loved forever.
Brook is very active and lives up to the Siberian Husky name. As typical for the breed, she can play and play and is quick to find too many interesting things if not closely supervised. She is also very loving and affectionate and will pause in her games to run over and give enthusiastic kisses.
Brook and Maddie are not related, however, the girls have been together all of their young lives. We would like to place them in a home where they can continue their friendship.