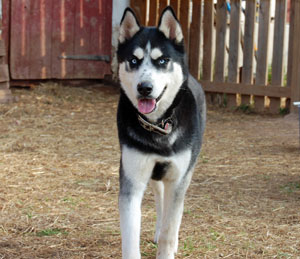 Age: 1 Year, 4 Months
Sex: Male
Size: Average
Congratulations Blu!!!
Blu is a handsome Siberian Husky with mischievous baby blue eyes. Blu was born on December 13, 2011. Sadly his human mom could no longer care for him and we have welcomed him into rescue until we find him a wonderful forever home.
Blu loves making new doggy friends. He is always ready for a good time and a game of chase. He is a smart boy and has had basic obedience ~ he knows sit, stay (husky-style), paw and down. He is housebroken and is trustworthy in the house.
This boy will do anything to have behind his ears scratched and he loves to cuddle. If allowed, he appreciates sleeping in bed. He is a loving and friendly boy who loves dog parks, walks and car rides. Most of all, Blu likes to near his human.
Blu will need to go to a home that has another active canine his size or larger with a sturdy fenced in area to play and romp in to ensure he is safe and sound. This boy is waiting for a long-term commitment ~ if you are ready for a forever relationship, consider opening your home and heart for Blu.