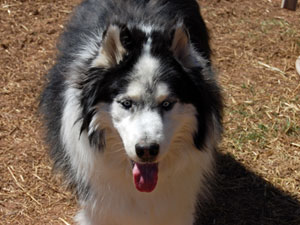 Age: Approximately 5 – 7 Years
Sex: Male
Size: Average
Congratulations Rocky!!!
Rocky is a handsome wooley (long hair) Siberian Husky approximately 5 to 7 years old. This boy has a sweet, laid back disposition. He somehow lost his family and became a guest at the Humane Society before coming to MaPaw.
Rocky is definitely larger than life and needs to shed some pounds. His beautiful long hair was tangled with mats and he is being brushed each day, which he enjoys. He is also getting several walks a day which he looks forward to. He is interested in the other dogs and will no doubt join in the husky games once he loses a little weight.
Rocky will enjoy a new family where he can be loved just for himself. He enjoys car rides, walks and is happy to just hang out with his friends. His forever home should be one that will continue to monitor his food and daily walks. We can't wait to see the "new" Rocky once his coat is shiny and soft and he slims down. This guy is a winner!