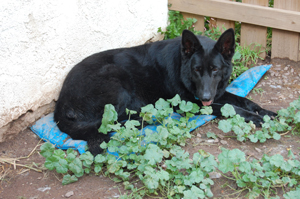 It is with a very heavy heart and through many tears that we share the passing of MaPaw pup, Schatzi.
Schatzi joined MaPaw 2 years ago after being found on the side of the road by 2 of our volunteers. This beautiful girl was horribly thin ~ you could clearly see every bone in her body. With lots of TLC, Schatzi was soon gaining weight and her wonderful personality started to shine.
On Saturday, she had a seizure and became paralyzed in her hind end. She was taken immediately to emergency. After x-rays and blood work showed no specific cause, the doctors were leaning toward a neurological issue. We agreed to leave her overnight for medications and observation. On Sunday morning, there was still no improvement and she was clearly in pain. Although it broke our hearts, we decided it was time to help Schatzi begin her journey North of the Rainbow Bridge. In the arms of those that loved her most, Schatzi closed her eyes and passed peacefully.
Dearest Schatzi ~ You were our beloved Shepherd with a Husky heart. We are honored to have had the privilege of caring for you and sharing our lives with you for the past 2 years. Wear your silver harness proudly as you dance among the stars, free of pain. You will forever be in our hearts. Until we meet again, dear friend…