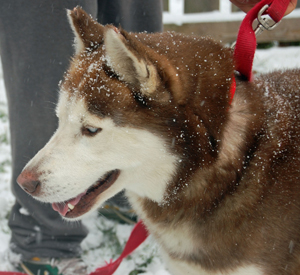 Age: 5 Years
Sex: Male
Size: Average
Congratulations Lobo!!!
Lobo is a handsome, chestnut red Siberian Husky that is about 5 years old. He found his way to us when his family gave him up to a local shelter. Lobo has the Siberian's high prey drive and it was felt best for him to be placed in rescue with folks that understand the breed.
Lobo is one of the new kids on the block and he isn't sure what is happening and why he is here. At first he was very shy, however, when everyone was gentle with him and he discovered he was in a good place, he quickly became very loving and playful. Lobo is good with other dogs and plays well with them. He is quickly becoming a favorite among the rescue.
Lobo apparently was kept outdoors, he has fly bites on the tips of his ears where he has lost some hair. This certainly does not take away from his good looks and the hair may grow back now that he will be an indoor dog and part of someone's family.