Good evening Puppers ~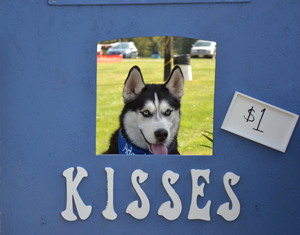 On September 22nd and 23rd, MaPaw participated in the Fido's Festival event held in Woodstown, NJ. This is our third year at the event and we have so much fun every year!
At last year's event, Dash was a shy guy that we were just trying to get exposure. He met a family with a female Sibe about the same size as Dash. When the 2 pups met, it was like they had been forever friends. We were so happy for Dash when he went to his forever home. This year, Dash and his family stopped by our site to say hello. He is such a happy boy ~ still a little tentative when he meets new people, but he's clearly in love with his family and his family is in love with him! We love happy tails!
We debuted our kissing booth. For $1, our visitors could get a kiss from one of our adorable Huskies or their own dog could get in the kissing booth and have their photo taken. We've posted all of the photos here. There are lots of wonderful shots ~ some of those pups were real hams!
Zeke was at the event both days being his lovable self. He did scootering demos on both Saturday and Sunday. He did such a great job ~ he's a natural at scootering! He also made several appearances in our kissing booth! He was a busy boy and was quite sleepy at the end of both days.
On Sunday, MaPaw volunteers Jen and Chris made their way to the event. They brought their pups Max, Drake (MaPaw alum) and Neiko (MaPaw alum), as well as their MaPaw foster pup, Gage. Max, Drake and Neiko were on hand to do a dry land mushing demo. The boys did a great job ~ although they wanted to keep turning to the left for some reason.
Gage came along to meet a potential adopter. The meeting went well, but did he get adopted? You'll have to check back to see…
It was a great weekend ~ we visited with old friends and made lots of new ones! Thanks to everyone who stopped by!
~ Scout