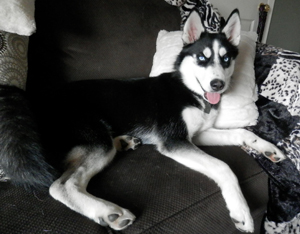 Age: 6 Months
Sex: Female
Size: Average
Congratulations Farrah!!!
Farrah is a six month old, energetic puppy ready to rule the world! Unfortunately, her owner could no longer care for her and she came into rescue until she could find her forever home.
Farrah is a happy girl with a constant Siberian smile and a tail that is always wagging with pleasure. She loves to play with her foster's husky and then curl up to cuddle with foster mom. She is a love with plenty of kisses for you. She is a little shy until she gets to know you.
Farrah is very playful and loves walks and runs. She is good on a leash (for a husky). She is crate trained and housebroken with just the occasional accident in the house. She is good in the car.
Farrah is a smart girl and is learning her basic commands. Now Farrah needs a forever family that she can be part of and a loving companion. She needs someone to love that will continue with her puppy training as she grows into a wonderful and social Sibe.
[smooth=id:191;]