Hello Pups ~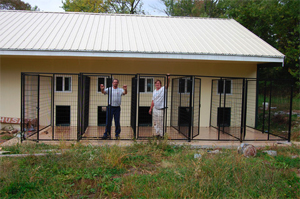 Our volunteers have been hard at work and the kennels are looking amazing!!!
Our long awaited telephone pole has been delivered and installed by the telephone company. Our awesome volunteers have installed all of the interior electrical wiring with the help of an electrician (of course). So now we are waiting for the electric company to bring us electric to the building!
The outdoor kennel floor has been sealed and the outdoor kennel runs have been constructed and installed.
There are still things that need to be done, but our to-do list is getting shorter and shorter…
We are so excited and can't wait until the kennels are done and we can welcome our first guest!
~ Scout