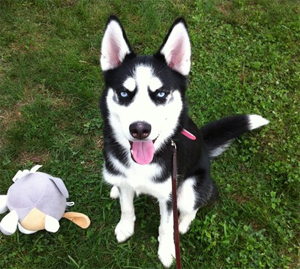 Age: 6 Months
Sex: Female
Size: Average
Congratulations Annabelle!!!
Annabelle is a six month old puppy full of energy and a zest for life! Unfortunately, her owner could no longer care for her and she came into rescue.
Annabelle is a super sweet little girl that loves all dogs, children and adults. She is a little timid until she gets to know you, but then you have a friend for life! She is very affectionate and once playtime is over, she loves to cuddle and nuzzle with you.
Annabelle is crate trained and is housebroken except for the occasional accident. She is a very smart girl and learns fast. She knows sit, paw and down. She is very good on a leash (husky style, of course).
Typical of a puppy, Annabelle will entertain herself by getting into the trash and tearing up napkins and tissues. She fancies herself as a gardener, so household plants must be beyond her reach and outdoor plants checked for any toxicity to dogs.
Annabelle is a happy go lucky pup full of energy, charm and love. There's just one thing she dreams of ~ a family of her very own with loving people that will continue with her training and give her a forever home.
[smooth=id:190;]