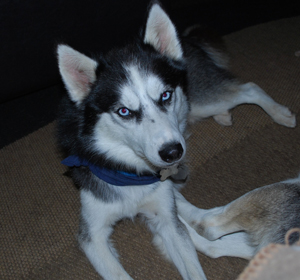 Age: 2 Years
Sex: Male
Size: On the Smaller Side
Congratulations Luka!!!
Luka is an amazingly affectionate and petite 2 year old Siberian that came into rescue with Annie, Eva and a litter of puppies the owner could no longer care for. Although being an indoor companion was not part of Luka's first 2 years of life, he settled into the routine rather quickly.
Luka is small for a male ~ weighing in at only around 35 pounds. It's a good thing too ~ this guy thinks he's a lap dog and isn't shy about climbing into the nearest lap! Luka will happily accept any form of adoration from his humans.
Luka gets along well with other dogs and would love a home with another canine companion.
[smooth=id:183;]