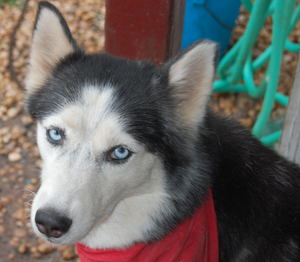 Age: 6 Years
Sex: Female
Size: Average
Congratulations Eva!!!
Eva is a sweet and somewhat petite 6 year old Siberian that came into rescue with Annie, Luka and a litter of puppies the owner could no longer care for. Becoming an indoor pet was a big change for Eva, however, she quickly realized this was a very good thing and she began to soak up much needed attention and TLC.
Eva quickly learned her foster family's routine and is trustworthy in the house; however, she does resist being crated. She is great with other dogs and she loves people. She is a gentle girl and rather low energy. Eva is happiest when she is near you ~ especially if you allow her to share the couch for some quality time.
Eva is a very social and affectionate girl wanting to make up for lost time. She has now been spayed and is ready to find her forever home and someone to love. She seems to know that she has been given a second leash on life and she will make someone very, very happy. This girl is looking for love and a lifetime commitment ~ is she the one for you?
[smooth=id:184;]