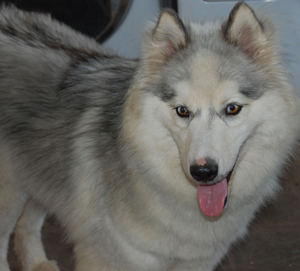 Age: 1-1/2 Years
Sex: Female
Size: Average
Congratulations Luna!!!
Luna is a very sweet and pretty, whooly (long hair) Siberian Husky that is 1-1/2 years old. This grey and white gal is always smiling ~ just looking for some play or affection. She has two parti-eyes, each eye is part blue and part brown.
Luna is still in the puppy stage and just loves to play, play, play! She is housebroken. Luna is crate trained and goes willingly into her crate after a good play session and cuddle time. Due to her age, she is best in a crate when unsupervised to keep her out of mischief. This girl is a princess and she knows it. She has a beautiful voice and has plenty to say to anyone that cares to listen.
Luna absolutely loves to play with other dogs and will need to go to a home with another active canine companion. Sibe experience and a fence will be a plus, along with patience and continued training as she grows in adulthood.
[smooth=id:177;]