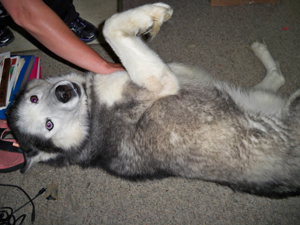 Age: 8 Years
Sex: Male
Size: Average
Congratulations Kita!!!
Kita is a very handsome male Siberian that is 8 years old. He's at the wonderful age where he still has a lot of spunk and loves to play, but without those silly puppy moments.
Sadly, Kita's family had to move and it broke their hearts that they could not take their best friend along. We promised that we would take very good care of Kita until we could find him a wonderful home.
Kita is very playful and rarely barks, however, he does love to sing along when anyone starts to howl. He is housetrained and knows basic commands. He most likely would be fine as an only dog. True to the breed, he can be stubborn and he is food motivated – "treat" is a word he knows well!
Kita is looking for love in all the right places ~ a home that he can love, be loved and be a forever member of the family. We are getting to know this wonderful husky and would love to tell you more.
[smooth=id:176;]