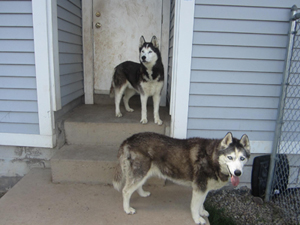 Age: 7 Years
Sex: Female/Male
Size: Average
Congratulations Bonnie and Clyde!!!
Courtesy Post for Scottsville Veterinary Adoptions (Rochester, NY)
Bonnie and Clyde were originally found wandering by themselves. They patiently waited, but their family never came to pick them up.
Both pups love human companionship and are sweet, gentle pups that crave attention. Bonnie & Clyde both have laid back personalities and enjoy just hanging out. They are selective about other canines, so would probably do best in a home without other pups.
They do need to be adopted together ~ they lost their family and we don't want them to lose each other.
Both pups are spayed/neutered, current on vaccines and tested negative for heartworm.
If you are interested in having Bonnie and Clyde join your family, please contact Scottsville Veterinary Adoptions directly at 585.889.8340. Bonnie and Clyde are currently residing in Rochester, NY.
[smooth=id:179;]