Hello Puppers ~
We have some very exciting news to share about our kennel project…
Our first project of the Spring was to build the indoor kennel run walls. We decided to use cement block to build 6 foot walls and then finish the remainder of the wall with chain link to contain our little escape artists. After a couple of days of work, the cement portion of the walls was complete.
We had to take a little break to raise more money in order to continue construction. As we were strategizing our fundraising plan, we got an AMAZING email from the Petco Foundation. We had applied for a grant a few months ago and had been patiently waiting for word. Well, when we got the email we almost passed out. The Petco Foundation had awarded MaPaw a $20,000 grant to complete the construction of the kennel!!!
The check arrived on May 31st and we promptly started planning our work weekends.
This weekend, MaPaw volunteers were hard at work and we are ecstatic about the progress. Every weekend will be a work weekend until our kennels are finished. We can finally see the finish line and we can't wait to welcome our first guest. If you're available and would like to help, please contact us. The more help we have, the faster we can get the kennels finished.
Outside Front of the Kennel Building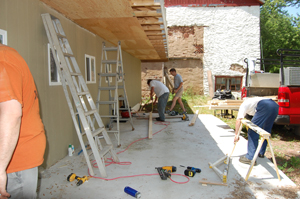 Kennel Interior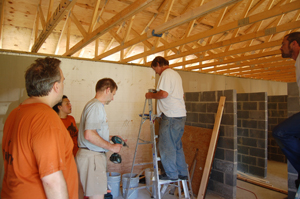 Our Supervisors for the Day, Keystone and Halo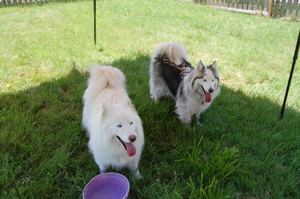 Now that construction is rolling along, keep checking back for updates!
~ Scout