Hello Puppers ~
It's been a busy week again at MaPaw. We've had some new pups join MaPaw and we've had a lucky pup go to his new home.
First new pup is Ice. Ice is a beautiful pie-bald gal who is approximately 18 months old. She was surrendered to the shelter by her owners because she kept getting out. Since she was labeled an "escape artist", our friends at the shelter felt it would be in Ice's best interest to be adopted through MaPaw. She has a wonderful personality and LOVES playing with the other pups in her foster home. Ice is looking for a home with a 6 foot fence and another pup (her size or larger) as active as she is.
Next gal to join us was Aurora. This pup was found as a stray. We can't believe that nobody is missing her ~ she is such a great pup! She is estimated to be 4 years old. Aurora enjoys the company of other dogs, but would do fine as an only dog as well. She is quite vocal and doesn't mind telling you what she's thinking.
Just two days after Aurora joined MaPaw, Clint followed. He had been surrendered by his owners when they could no longer afford to care for him. At 8 1/2 years, our friends at the shelter didn't think his chances of being adopted were very good. We happily made space for Clint and soon he was making himself comfortable in his foster home. Clint prefers the company of ladies (pups), however, he would also do well as an only pup.
We've also added two pups to our Available Dogs page that are not with MaPaw, but are searching for their forever homes.
Jaycee is currently residing with York County SPCA. This beautiful Husky mix was caught in a leg trap. Sadly, her leg could not be saved, but that doesn't slow her down at all. She absolutely adores people and spending time with them. Jaycee does prefer to be the only pup in the house. If you are looking for a great friend to spend your time with, Jaycee could be your gal!
Cody is a 4 year old male Siberian Husky with an amazing white coat and golden almond eyes. He is currently a resident of Main Line Animal Rescue, where he has been since January. Cody does have a lot of energy and is looking for an active home with a Sibe-savvy family. If you are looking for a great running companion, contact MLAR about Cody today!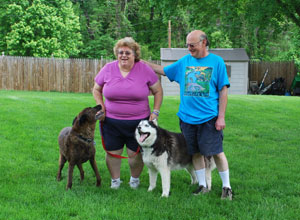 Our lucky boy is Stryker. Stryker had been surrendered to the shelter with a history of seizures. Stryker is everyone's friend ~ people and pups (his size or larger) alike. He enjoys a game of chase in the yard before settling for a snuggle with his humans. Stryker met his new brother and family last weekend. The two were great friends and arrangements were made for Stryker to go home this weekend. When volunteers, Linda and Pete, came to the Farm to pick Stryker up for the road trip, Stryker couldn't stop hopping around. He was so excited to be going home, he couldn't contain himself.
Stryker was adopted on May 5th.
Welcome to our new pups! Congratulations to Stryker and his new family!
~ Scout