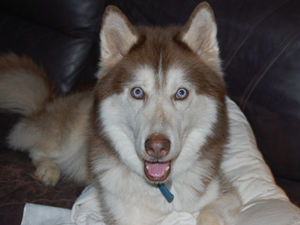 Age: 3 Years
Sex: Male
Size: Average
Congratulations Baron!!!
Baron is a handsome three year old red and white Husky with a great personality! He has brilliant baby blue eyes that demand your attention along with a contagious Siberian smile. Baron's previous family separated and we were contacted to provide immediate shelter for this handsome guy. We are so happy we were able to.
Baron is a social boy that loves all of the other dogs. He plays nicely with them and enjoys hanging out with them. His favorite past-time is getting close to his foster people and snuggling in for some quality time. This boy is a cuddler! He bonds very quickly and loves to join in any project at hand. He is a great supervisor and loves to talk and assist.
Baron is housebroken, crate trained and trustworthy in the house. He is a couch potato at times and loves to be on the couch or bed if allowed. He enjoys car rides and is good on a leash (for a husky). Baron is a good natured boy that will make a wonderful addition to a lucky home.
[smooth=id:172;]