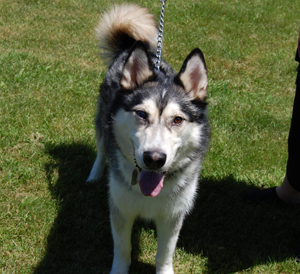 Age: 6 Years
Sex: Male
Size: Average
Congratulations Jack!!!
Jack is a very friendly six year old Siberian/Malamute full of love. Unfortunately due to life changes, Jack has found too much time on his paws and he is looking for a new relationship where he can spend more time with someone.
Jack just loves everyone he meets and he is great with kids of all ages. Jack is blind in one eye and has been treated by a canine ophthalmologist. He has glaucoma in his remaining eye, however, the specialist has indicated the remaining eye should be fine. He is currently on drops for both eyes.
Jack is a big teddy bear that loves big bones, car rides and walks. He is a smart boy, he knows "sit" and "down". He is crate trained and is a fairly active boy. Everyone he meets is his new best friend. He just needs a family to call his own where he can be the spoiled pup he deserves.
If you have any questions about this wonderful guy or about his eye conditions, please feel free to contact us. He is indeed a very special boy that you will fall in love with.
[smooth=id:174;]