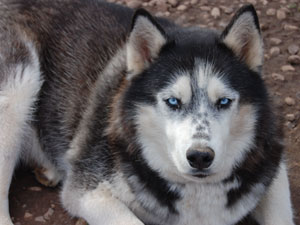 Age: 8 Years
Sex: Male
Size: Average
Congratulations Stryker!!!
Stryker is an eight year old black and white Siberian Husky with piercing blue eyes and adorable freckles that are sure to melt your heart. This boy is a "classic" husky and a teddy bear that we have fallen in love with. He is very affectionate and loves to cuddle right after he has a good romp with the dogs. He is especially sweet on Meadow (also available) and they just love to play!
Stryker is friends with everyone in the rescue, he gets along with all people and pups. He is crate trained, but is trustworthy loose in the house. Stryker came into rescue with a history of epilepsy and seizures and is on an inexpensive medicine which is quite effective. We have seen no seizures at all during his stay with us and we will continue to watch over this lovely boy.
If you are looking for a best friend, this guy may just be the one for you ~ he is a keeper!
[smooth=id:146;]