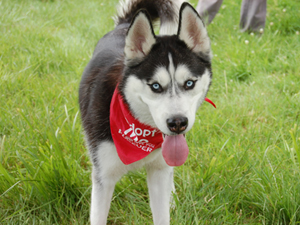 Age: Approximately 3 Years
Sex: Male
Size: Average
Congratulations Zeke!!!
Click here to check out my video on YouTube!
Zeke is a handsome two year old Siberian with piercing blue eyes. He is quite the charmer who is always up for a good time!
Zeke loves to play with other pups (his size or larger). He enjoys scootering and biking with his foster family. He is great in the car and loves road trips. An active home with another pup would be the perfect fit for this guy.
Zeke is a fun-loving boy who sometimes find himself in the middle of mischief. He is a climber and can easily scale any chain link fence, so a 6 foot privacy fence is a must for Zeke! He is a curious pup who will need a family willing to crate him when they're not home to supervise his "explorations".
Looking for an active pup with a gentle soul to add to your family? If you have another active pup and a 6 foot privacy fence, then Zeke might be your guy!
[smooth=id:142;]