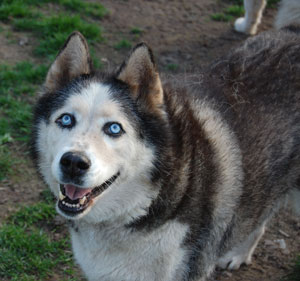 Age: Approximately 6 – 8 Years
Sex: Female
Size: Average
Congratulations Trudi!!!
Trudi is a black and white "larger than life" Siberian we immediately fell in love with. She is approximately six to eight years old who somehow lost her family. Trudi came to us at a staggering 107 pounds and bloodwork determined she is hypothyroid – a condition that causes her to easily gain weight. Fortunately, this is very easy to control with inexpensive medicine.
Trudi is one of the sweetest dogs around. She "dances" by shifting her weight back and forth on her front paws when she is happy or excited ~ we call it her "happy dance". She loves to smile and cuddle with her humans ~ what a sweetheart! She walks very well on a leash and daily walks are now part of her exercise routine, which she loves.
Trudi has settled into her foster home and is doing very well. We are very excited ~ she will have a weigh-in and repeat thyroid testing late November to see how she is adjusting to her meds.
Stay tuned for MaPaw's own version of the "Biggest Loser", but one thing is for sure ~ this gal is a winner!
[smooth=id:143;]