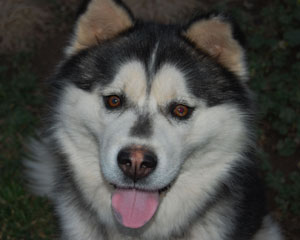 Age: Approximately 3 Years
Sex: Female
Size: Average
Congratulations Tippy!!!
Click here to check out my video on YouTube!
Tippy is a Chow/Siberian Husky (Chusky) mix that is adorable and she knows it! This little girl somehow lost her family and found herself needing a little help from some friends ~ MaPaw is happy to love and care for her until a new and forever home can be found.
Tippy is ready to take on the world and is extremely affectionate with people. She fancies herself as a lap dog, loves to cuddle (when she stops wiggling) and never tires of giving kisses. Tippy is an alpha female and does need to be supervised when around other dogs. Smaller dogs and older dogs are not a good match for her.
Tippy is a beautiful pup estimated to be two years old and would do best in a home familiar with the chow and/or husky breed. She is housebroken, crate trained and trustworthy in the house.