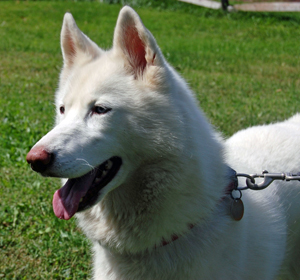 Age: 7 Years
Sex: Female
Size: Average
Congratulations Luna!!!
Luna is a beautiful snow white seven-year old female with baby blue eyes. Due to life changes, her family is no longer able to care for her and Luna is in need of a new family to love and call her own.
Luna is a very well behaved lady once she gets to know her routine. She is housebroken and crate trained. She enjoys her crate and sleeps in it even when the door is open. Luna is an alpha girl and will be best with only one or two male dogs that she can boss around. She is great with people and children ten years or older.
Luna loves car rides, going for walks and squeaky toys. She is a great indoor companion and just wants to love and be loved. If you are looking for a dependable companion without the puppy issues, Miss Luna may be just the one for you!
[smooth=id:138;]