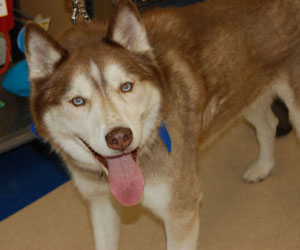 Age: 6 Years
Sex: Male
Size: Average
Congratulations Blaze!!!
Click here to check out my video on YouTube!
Blaze is a red and white male Siberian Husky at the wonderful age of six – old enough to know better and young enough to have lots of fun. Due to life changes, Blaze's family feels it would be best for him to find a family that can devote more time to this handsome boy.
Blaze is a gentle teddy bear and an absolute love! He has a beautiful thick, soft coat that is just perfect for hugs. He loves belly rubs and rolls right over any time he sees a chance for one. He gives great kisses and wants to greet everyone he meets.
Blaze prefers the company of another pup and for that reason, he will only be placed in a home with another canine companion. When Blaze is alone, he becomes a little anxious or bored and if not crated will sometimes chew.
[smooth=id:139;]