There are times in rescue when it feels like certain things just fall into place, like they were meant to be. Such is the case with 2 of our pups ~ Jessie and Hope. At first glance, the 2 of them are obviously very different in appearance and personality. Their paths to MaPaw are strangely connected.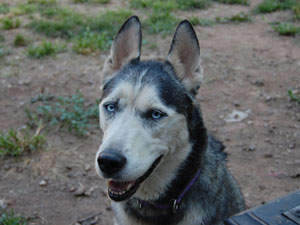 It all started when 1 of our volunteers had been alerted to a missing Husky named Jessie that had just run away from her home. The volunteer was visiting family and actually in the process of leaving, when Jessie's owner had stopped at the driveway to ask if a black and white Husky had been seen. After a brief conversation, it was learned that Jessie had just been adopted privately through a Craigslist ad about an hour before. Her new owners were not familiar with the Husky breed or the instincts that drive them to run if not contained properly. Jessie pushed right through their screen door and off she ran. Obviously it's bad news when any pup runs away, but this poor pup was in an area that she was not remotely familiar with.
After a sighting in an area near the development where the family lived, MaPaw volunteers spent the next week driving up and down the same stretch of road. We handed out flyers, business cards and talked to everyone we saw. In our travels we found a woman that had actually had Jessie in her house before she managed to escape again. We thought this was the best spot to place the Have-A-Heart trap. Unfortunately, the trap caught a cat the first night it was there. As the woman released the cat from the trap, she turned around to see Jessie watching her. Jessie followed her right into her home where she made sure that Jessie was securely contained before calling MaPaw. As soon as we got the call, we were on our way to pick Jessie up. After talking with her owners, they decided it would be best to find Jessie a Husky savvy home and she joined us at the Farm.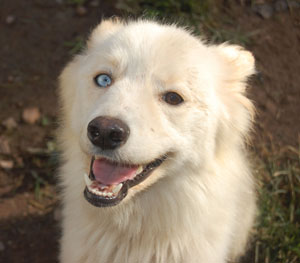 So what does that have to do with Hope? Well while we were searching for Jessie, one of our volunteers placed an ad on Craigslist. Luckily the ad was never removed and about a month ago, we were contacted by a good samaritan that had found a pup running on a very busy street. He said that she was very thin, infested with fleas and had open wounds on her feet. She had been taken to an area shelter, but her owner never came forward to take her home. When the good samaritan found out that nobody had claimed her, he turned to MaPaw for help. The next day, he picked Hope up from the shelter and she was on her way
to her MaPaw foster home.
Today, both girls are doing well. Jessie has been cleared after her week on the run and is looking for her forever home. Hope has been groomed and she looks (and probably feels) a lot better. She is still underweight, but is making progress. Once she is a healthy weight, she will begin her search for a forever home as well.