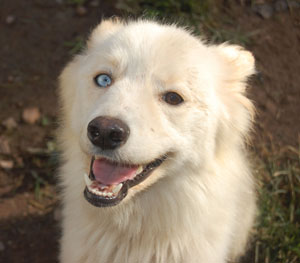 Age: Approximately 10 Months
Sex: Female
Size: Petite
Congratulations Hope!!!
Hope is a tiny little girl that has placed huge paw prints on the hearts of so many people… She was found wandering loose in a very busy and dangerous intersection, starving and wounded. A Good Samaritan spotted the frail puppy and stopped to save her. Injured and dangerously underweight, all the puppy wanted to do was kiss and thank her new friends…
We named her Hope – she brought out hope in so many great people that helped bring her into rescue. She is estimated to be approximately 10 months old. We will never know her sad past, but we do know she will have a wonderful future.
Hope is receiving vet care, good nutrition and lots of TLC. In return she is giving unlimited kisses and love. She will be available for adoption once she heals and is a good weight. Please send sibe vibes for our little peanut, she only weighs 22 pounds!
[smooth=id:135;]