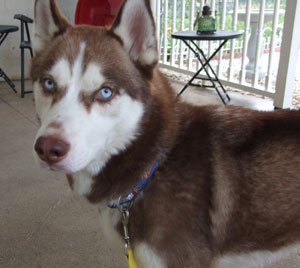 Age: 3 Years
Sex: Male
Size: Average
Congratulations Rogan!!!
Rogan is a handsome red and white Siberian estimated to be three years old. He found his way into our rescue after his family turned him in to a shelter because they no longer could care for him.
Rogan is one of the new kids on the block and we are having fun getting to know him. He is a very sweet boy and smart too. He sits on command and although he pulls some on the leash (husky style) he is not a big boy and is easy to handle. He is learning crate training.
If you are interested in Rogan, please contact us and we will be happy to tell you more as we continue to foster him and learn more about his personality. He seems good with other dogs his size or larger, however, true to the breed ~ he is not good with cats.
[smooth=id:127;]