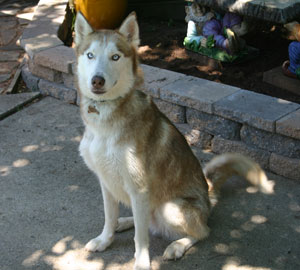 Age: 1 – 2 Years
Sex: Male
Size: Average
Congratulations Ziggy!!!
Click here to check out my video on YouTube!
Ziggy is a red and white male husky estimated to be 1 – 2 years old with an incredible personality. He is sweet and loves to give kisses and actually listens well for a husky ~ he loves everyone.
Ziggy and his friend, Steele, found themselves at the shelter when their family abandoned their home ~ and their trusting dogs. Both pups were left on the street where our friends at the shelter found them and brought them into safety.
Ziggy is very trusting and loves to please. He is great with other dogs and he loves to swim! He is not bonded to his "brother" Steele and they are in separate foster homes at this time. However, if you are looking for a pair, we are sure the boys would love a happy reunion (two huskies are easier than one since they keep each other company…)!
If you want a new best friend, please consider Ziggy – he is going to make someone a wonderful companion.
[smooth=id:126;]