Hello Puppers ~
I've really been trying to be better about writing updates, but it seems that I have "summer brain". I start to come up with an idea of something to write about and then I see a bunny in the yard and it's all over for my creativity ~ all I can think about is that darn bunny.
If you check out our site often, you are probably familiar with Falcor. He's a pretty cool little guy that has been with us for awhile. When he first joined his foster home, he was quite scared and wasn't a huge fan of strangers. His foster Mum was so patient with him and showed him nothing but kindness and lots of love. He soon began following her around and seeking attention from her.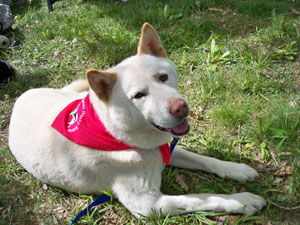 Falcor has been at a few meet and greets. He doesn't seem to be a huge fan, but I think he likes the car rides (that's the only reason I keep going to the vet). Because he is so timid, he is usually hiding out behind the table keeping a watchful eye on the festivities around him.
He has become so comfortable in his foster home and with his housemates, that the people at MaPaw feel it's in his best interest to remain there for the rest of his life. So it's official ~ Falcor has "retired" to the good life of being spoiled by his foster Mum. He's one lucky guy, but don't think he'll let retirement slow him down ~ he'll still make himself busy with strolls around the yard and napping in the sun.
Congratulations Falcor!
~ Scout