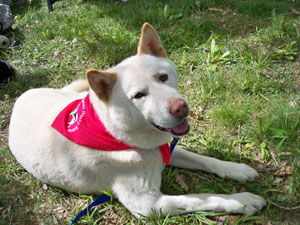 Age: Approximately 11 Years
Sex: Male
Size: On the Smaller Side
Our dear Falcor has begun his journey North of the Rainbow Bridge. When he joined MaPaw, he was a scared little guy who lacked confidence. His foster Mum worked with him and they soon formed an amazingly strong bond. We soon realized that Falcor was already home and he became a permanent resident of MaPaw. Falcor's passing was unexpected. He was a special little guy and he will be greatly missed by all who had the opportunity to meet him. Dearest Falcor ~ Wear your silver harness with great pride as you dance among the stars, dear friend. Know you are greatly loved and horribly missed. Until we meet again… ~ August 16, 2012
---
Click here to check out my video on YouTube!
Falcor is a small and very handsome Jindo (Korean dog) who came into MaPaw after losing his way and being found as a stray. He was originally thought to be a Siberian Husky/Shiba Inu mix and is estimated to be eleven years old.
Falcor joined us in November 2009 ~ a very frightened little boy who was not sure what was happening and why he was here. We fear he was abused in the past. Once Falcor knows you, he relaxes a bit and enjoys being petted and shown attention and affection. He is okay with other dogs, but prefers to be on his own in an environment that he is comfortable with.
Falcor likes to take walks, but doesn't need long ones. He just loves a soft place to rest, a warm hearted person to snuggle with and a gentle hand to give him loving caresses. Being older, he is very calm.
Falcor has formed a very strong bond with his foster mom and for this reason we feel it is in his best interest to become one of our permanent residents. He will be cared for in his foster home where he feels safe and where he is loved. We are so happy Falcor feels safe now and we are glad he is part of the MaPaw family.
[smooth=id:43;]