How do you get 2 young, timid and unsocialized pups to kick it up Husky style? Introduce them to a house full of Huskies!!!
Dylan and Cooper had been picked up as strays. We don't know anything about their past, but we do know that these boys are definitely bonded to each other. They are young ~ approximately 6 – 9 months old. They clearly have had no socialization with humans in their short lives.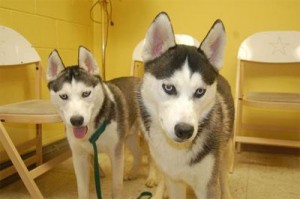 Volunteer, Dave C. picked the boys up at the shelter and brought them to the Farm. When they arrived at the Farm, it was heartbreaking how scared they were. It took us a long time to gently coax them out of the crate they had been sharing in the van. While we lead them toward the house, they walked very slowly and close to the ground. Their tails were hanging, their ears were flat and you could see them slightly trembling. We finally got them into the house and to the door that opens into the yard. When we opened the door and the boys could see fellow Huskies, their tails curled and their ears went up. Out into the yard they ran and they were soon involved in a fantastic game of chase!
We had hoped that being part of a pack would help Dylan and Cooper adjust to life in a home (which they clearly had never been in before) and it seems to be working. They are working on their housetraining, but they have learned that the best place to be in the house is on the couch. They are becoming more trusting with their caregivers, sometimes they even steal a moment to give a gentle kiss before scurrying off to play with the others. One thing is for sure ~ they are definitely loving the company of their housemates! Here they are enjoying the sun with their foster brother, Ozzie.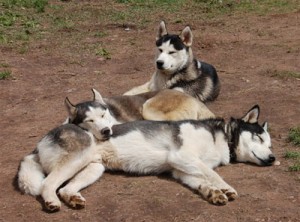 Check back for updates! Welcome Dylan and Cooper!!!
~ Scout