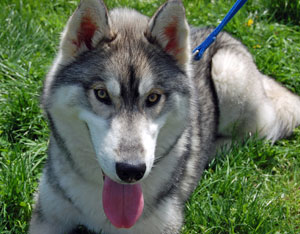 Age: 9 – 12 Months
Sex: Male
Size: Average
Congratulations King!!!
King is a 9-12 month old Siberian that can count his lucky stars! Somehow this handsome boy sustained lacerations to his front leg and the leg became very infected and was in danger of amputation. We are very happy to report that he responded well to antibiotics and crate rest and the leg is just fine!
King is a lover ~ this boy wants nothing more than to be near you and, if possible, resting on your feet or leaning in to be even closer. He loves absolutely everyone and is a favorite with his foster siblings and other pups in the neighborhood that stop by for play-dates and mutual sniffs.
King is housebroken and crate trained. He loves walks and car rides and is a great kisser! He is now ready for a second leash on life where he will be an important part of the family and loved and cared for.
[smooth=id:103;]