Hello Puppers ~
I'd like to introduce you to Coda. He is a very handsome (that's what my Mum said) 1 1/2 year old Sibe that really needed MaPaw's help. First, here's a photo of him: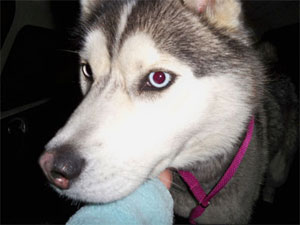 Okay ~ so here is Coda's story. On Wednesday night, MaPaw was contacted about a pup that had escaped his yard and had been shot by a farmer who thought he was a coyote. His femur had been shattered and his family was devastated that they couldn't afford the surgery he needed to save his life. This boy was way out of MaPaw's area, but we knew that we were his only chance. We agreed to bring him to MaPaw and arrange the necessary veterinary care.
Early Thursday morning, we put out a plea to our volunteers with transport assistance. In no time, we had the transport ready to go. Have I mentioned we have the best volunteers EVER?!!! Coda's owners offered to drive him as far as they could. They met up with Deb M. who took him to meet Dave and Karen C. who would be taking him to the Farm. Through the entire trip, Coda had kisses for everyone he met.
Bright and early Friday morning, Coda was loaded into the car and off he went to the vet for a thorough examination and x-rays. Dr. Ross (Schwenksville Vet) had a feeling that a specialist he knew might be able to mend the leg rather than amputate. After a phone consult, Coda was whisked off to Metropolitan Vet for a closer look at his x-rays. After a thorough discussion, we thought it might be in Coda's best interest to amputate his leg. We were so hopeful that we would be able to save his leg. After more discussions with the specialist, he really felt that the surgery would be successful. We decided to have the surgery to mend his leg.
On Friday afternoon, he had the surgery done and we were on pins and needles waiting for word on how the surgery went. Finally the call we had waited for ~ everything went well and Coda was recovering nicely. The next morning brought more good news ~ Coda had slept through the night, had some breakfast and was doing wonderfully.
Metropolitan Vet has offered for Coda to stay with them for the next couple of weeks where he will be monitored 24/7 and kept quiet so he can heal. Once he is released from Metropolitan, he will return to the Farm where he will finish his recovery.
The total cost of Coda's surgery has been capped at $4300. His stay with Metropolitan will be done as a courtesy. Any donations toward Coda's care will be greatly appreciated and humbly accepted. If you would like to donate to Coda's care, you can do so below or you can donate directly to Metropolitan Vet by calling 610.666.1050 and tell them it's for MaPaw Siberian Husky Rescue.
We are so grateful that we have the opportunity to help Coda. He is an amazing pup that will make a great companion for a very lucky family when he is finally ready to begin his forever home search. We know that his family is heartbroken that they had to let him go, but they know that they did the best thing they could do for Coda. We will take wonderful care of him while he is with us and we are excited for the future he has to look forward to!
Welcome to MaPaw, Coda!
~ Scout