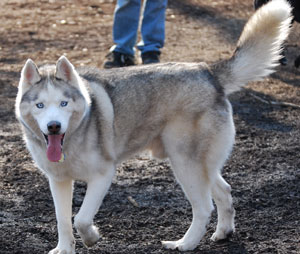 Age: 9 Years
Sex: Male
Size: Average
Congratulations Dobbin!!!
Click here to check out my video on YouTube!
Dobbin is a handsome, nine year old Siberian male with baby blue eyes and a constant smile. He is a docile boy (for a husky) and loves to go for walks and play with squeaky toys and then he is happy to sack out on the couch and just be with the ones he loves.
Dobbin has been part of his current family for eight years. Unfortunately, one of Dobbin's family members has developed severe allergies and they must find another family for Dobbin to love.
Dobbin is a wonderful companion ~ he is housebroken, crate trained and trustworthy in the house. He is a brave boy, but is afraid of thunderstorms and fireworks. He is a lovable guy and just wants to be near his family.
If you are looking for someone to share walks with and then couch time with a good book or movie, Dobbin may be the perfect guy for you!
[smooth=id:101;]