Hello Puppers ~
MaPaw has lost another beloved member of our family. Yesterday morning, Ben lost his battle with cancer.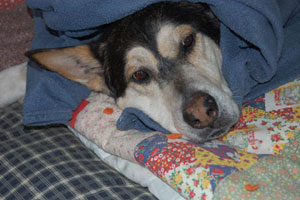 Ben had been with MaPaw just over 2 years, the last 4 months he had been in our Hospice program. In November of last year, Ben had one of his front legs amputated after being diagnosed with an aggressive bone cancer. The tumor had eaten away much of the weight bearing bone in that leg and amputation was the only option. While we knew that amputating his leg would not increase the amount of time we had left with Ben, we knew it would give him quality of life for whatever time he had left.
He had adjusted quickly to life with 3 legs. He loved greeting Farm visitors and became quite vocal about his attention demands. His goofy smile could bring a smile to anyone's face. Simply to know Ben is to love him.
In the last week, his health quickly went downhill. Soon he could no longer stand on his own and when he was helped up he would cry in pain. Although it broke our hearts, we knew that it was time to help Ben begin his final journey.
A "picnic" was planned for yesterday morning. Ben had a cheesesteak, which he happily ate between hugs, kisses and loving words. Surrounded by love, Ben took his last breath.
Ben was a gentle soul who made many friends during his stay with MaPaw. He is greatly missed by many and will be in our hearts forever.
Ben ~ wear your silver harness proudly, dear friend. Dance among the stars, free of pain. It was a privilege to care for you and an honor to know you. Until we meet again….
~ Scout