Hello Puppers ~
After almost 2 weeks at Metropolitan Veterinary Hospital, Coda finally arrived back at the Farm for his recovery.
He is on ordered crate rest for most of the day. However, he is allowed a few short walks around the yard on leash, which he looks forward to. His favorite time of day? Couch time with his housemates! Here he is chilling out with Sage and Sabrina.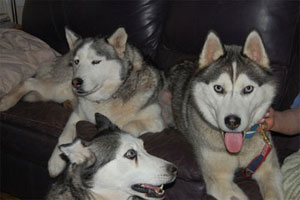 It is certainly an interesting task keeping this young man calm and quiet while he's in his crate…
He's doing well and we think his recovery is right on track. He is scheduled to visit the Doc soon for x-rays to make sure everything is healing as it should be. Check back soon for updates!
~ Scout