Age: 6 Years, 7 Years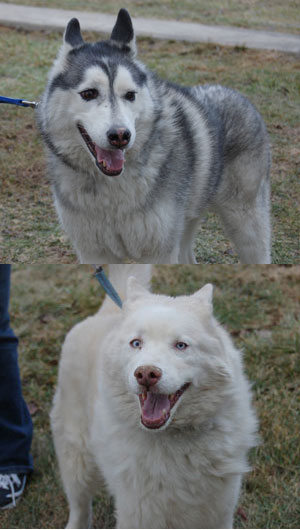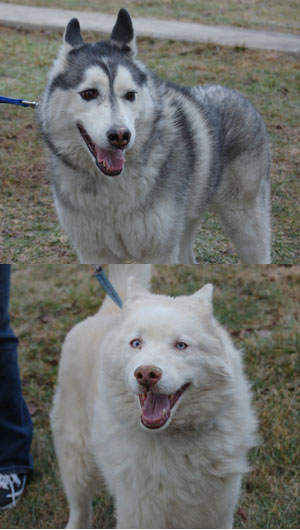 Sex: Male/Female
Size: Average
Congratulations North and Sascha!!!
North and Sascha are two loving Siberians ready to face the world together. This pair has been with each other for years and are best buds – they comfort, entertain and hang out together. Both are indoor dogs and crate trained. Life changes have made it necessary for them to find a new family to call their own ~ we don't want them to lose each other.
North is six years old and is a handsome black and white male who is playful, friendly and loving. He also loves to go for walks, but needs some leash work to curb his pulling. He is a smart boy ~ he knows sit, stay and come. He also loves any type of attention and being around Sascha and the rest of the family.
Sascha is a seven year old white female who is very sweet and loving. She is pretty mellow and enjoys hanging out in her opened crate. She enjoys going for walks and does tend to pull like a husky. She absolutely adores attention. She is a girly girl and doesn't like to get her paws wet when it rains.
North and Sascha have been loved members of their family for many years. Sadly, the family has concluded they are not getting the attention they deserve due to medical reasons within the family. They want to do what is best for the pair, even if it means letting them go to a wonderful home that will love and spoil them.
North and Sascha have been trained through Barkbusters and come with a transferable lifetime membership. If you are looking for a loving pair of huskies that are calmer and love to exercise and play, please consider these two wonderful dogs.
[smooth=id:97;]