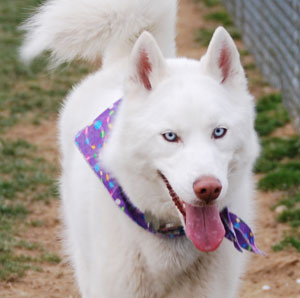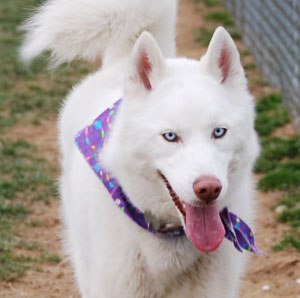 Age: 2 – 3 Years
Sex: Male
Size: Average
Congratulations Bryce!!!
Click here to check out my video on YouTube!
Bryce is a two to three year old, all white Siberian Husky with striking ice blue eyes who found himself as a stray at the local shelter three different times. Bryce is now looking for a sibe-savvy home that will keep him safe and sound and finally give him the forever home he deserves.
Bryce is housebroken and knows some simple commands like "No" and "Sit". He seems very respectful in the house and is eager to please – always a great trait in a Siberian! Bryce is a very smart boy and is fast becoming a favorite at his foster home. However, like most huskies, if he is given the opportunity to escape he will take it without looking back. Due to this reason, Bryce will require a home with a sturdy and secure six-foot fence to ensure his safety.
Although Bryce is dog friendly (he gets along with everyone), he is very picky about which dogs he would like to play with. Playing with other dogs in a backyard won't be enough for this boy. It has become apparent that this boy was built to RUN!!! Any home that would like to consider Bryce will absolutely need to run this boy (on leash of course)!! Whether it is frequent trips to the dog park (2-3 times a week), dog scootering/biking or as a running partner – Bryce will absolutely require an outlet outside of the house where he will be able to stretch his legs. In addition, he doesn't necessarily need a multi-dog family as he is much more people oriented.
If you are an active person looking for a partner to exercise and have fun times with, Bryce may be just the pup for you!
[smooth=id:93;]